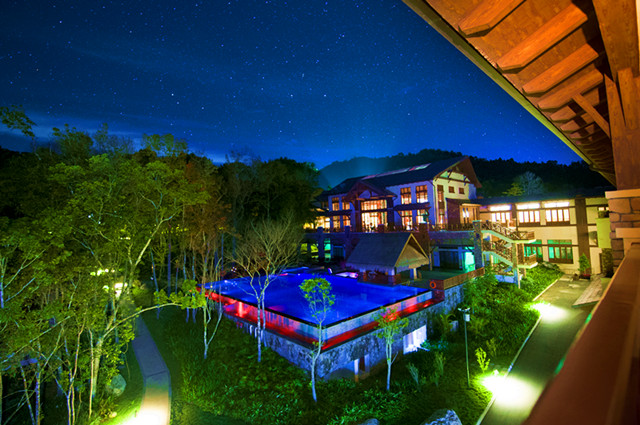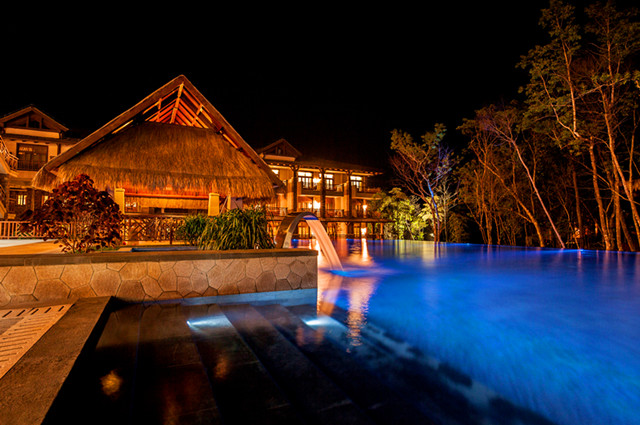 Wuzhishan honored forest resort is located at an altitude of 1867 meters the highest peak in hainan - wuzhishan at the foot of the mountain, the hotel to "tracing the source of rica, rain forests, caves, enjoy life, keep the mind and body of" for the purpose, the hotel building style is southeast Asia style, both after rich tradition and national characteristics of ship type and the diaojiao building, and other forms of construction. Is the only carrier in the wuzhishan rainforest theme of five-star leisure resort hotel.
Surrounding the hotel around the original lush tropical rainforest, rainforest valleys of the stream, stream waterfall, the air is fresh sweet, average negative oxygen ion content reached 30000 / ㎝ after above, is a health leisure good place to go.
Hotel guest room, dining, conference, recreation, SPA, SPA facilities, various types of guest rooms and suites, a total of 199 / sets, free wireless network coverage throughout the hotel; Outdoor swimming pool, fitness center, SPA center, squash room, cigar bars and qing, entertainment and leisure facilities. Both quiet and easy and comfortable leisure passengers to pursue, and business and exhibition activities needed to complete facilities and meeting facilities.
22.4 ℃ temperature, an average of 75.5% of the forest coverage rate, 30000 / ㎝ after more negative oxygen ion content, peculiar li architectural style, the mystery of the tropical rain forest landscape... In the quiet deep in the forests of the dialogue - with nature "live" the comfortable and healthy. Hotel rooms contracted and not simple fashion design, luxury and natural perfect combination of natural materials and natural color and the use of the elements embodies the aim of the hotel, return to natural loosen body and mind.
Raw foods, special local product of green, health, is not only a way of life, but also a life attitude - "eat" out of fashion and culture. Hotel design and distinctive a fusion of Chinese and western restaurants and bars, can let you between the landscape pastoral still enjoy the convenience of modern life. Order from providing all-weather and buffet restaurant of the four seasons, different time periods and to supply the local characteristics of the worldwide Chinese cuisine and authentic cantonese cuisine is the kingdom of incense, and good taste chatterboxes quality restaurants and wine cigar room, ubiquitous natural peaceful midstream shows a trace of human flourishing, make you both in the keeping in good health, without discomfort because of out of habit way of life.
The hotel also has an area of 740 square metres of meeting space, equipped with advanced audio-visual equipment and remote video meeting. The multi-function hall can accommodate 320 guests sit at the same time, the height of 15 meters, covers an area of 560 ㎡, is the only without pillar wuzhishan 360 degrees of visual function. There is also a detachable conference room can accommodate 100 people. Pleasant environment of guests lobby bar and the knowledge meaning is with the business partner and companion communication, taste delicious cocktails leisure place.
Transport hubs:
32 km from downtown wuzhishan, 40 minutes drive
110 km from downtown sanya, 120 minutes drive
310 km from downtown haikou, 240 minutes drive
The hotel name: wuzhishan honored rainforest resort hotel
Address: hainan wuzhishan township water full of wuzhishan national nature reserve
Telephone: 0898-86665555
Fax: 0898-86667999
Website: www.wuzhishanyatai.com
Zip code: 572200