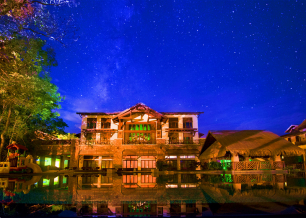 Wuzhishan rich products, the original ecological food, pure natural special local product of preserve one's health, is not only a way of life, but also a life attitude, "eat" out of fashion and culture. Wuzhishan honored rainforest resort in promoting original li and miao food - wuzhishan jerked beef, five feet wuzhishan pigs, wuzhishan tea, wuzhishan rica bamboo rice, fish, etc., were delicious dishes, taste is special. 
Introduction of dishes
Jerked beef

Select wuzhishan small cattle, meat tender, delicious nutrition is rich,Is known as "wuzhishan deer" laudatory name.Nutritional value and efficacy: wuzhishan yellow beef the characteristics of high protein, low fat, is helpful to prevent obesity. Because of not eating too much cholesterol, for preventing atherosclerosis, hypertension and coronary heart disease, is good, have fill in replenishing qi, nourishing spleen and stomach, strong bones and muscles, phlegm XiFeng, quench check the effect of stripping, suitable for weak people to fill the body and aftercare.

Double five feet pig

Five feet pig, also known as pig, is the wuzhishan area without the improvement of swine.Meat, fresh and refreshing, smell fragrant, how not to eat greasy.Nutritional value and efficacy: five feet pig pig collagen content is higher than normal, taste is more delicate, firming, Q; Five feet pork low cholesterol content, contains rich protein, and high in the human body needs calcium, phosphorus, glutamic acid, micro elements such as amino acid, vitamin E, very suitable for her family to eat. Hainan five feet pork can be used for frail win thin, stool, hemorrhoids bleeding, it can fill is deficient, beneficial nutrients, embellish lung, kidney, for lung and kidney Yin deficiency.

Wuzhishan fish tea

This tea is not tea, is li miao people of homemade dishes,Is li miao people the flavor of food.Nutritional value and efficacy: nutrition experts suggest that modern people should remind myself every day intake of one or two kinds of fermented foods, after fermented foods rich in minerals such as selenium, chromium can anti-aging, antitumor, prevent hardening of the arteries, and enhance human immunity; The composition such as lactic acid bacteria, can inhibit the growth of intestinal corruption, and can stimulate the body's immune system, mobilize the positive factors of the body, effectively prevent cancer; The composition such as threonine, can prevent memory loss; After fermentation of yeast or a strong antioxidant, can protect the liver, there is a certain detoxification. Therefore, people have a special body emaciated, the children and the elderly, such as weak digestion, might as well choose more fermented food, so that we can maintain health, promote longevity and bring vitality to the human body.