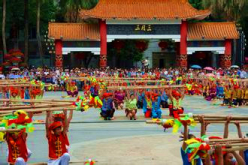 "SAN yue SAN" is a traditional festival of hainan li nationality folk, is also called love, li said "fu fu" read. The third of march lunar calendar. Li in March, the purpose is to worship ancestors of the li nationality, and QiZhu farming, hunting, a good harvest. Festival on the same day, li village men, women and children with zongzi and pastries, arrived in wuzhishan area from all directions. Fishing during the day, boys, girls cook grilled fish, then he will sacrifice in one day the princess and guanyin cave mouth, our ancestors. And young men back gun charged the arrow to the mountain forests to find prey, dedicated prey to his beloved girl.When the night comes, built big bonfires river, the girls and boys start celebrating activities. Song, wrestling, tug-of-war, shooting, some people still on the swings. In rhythm and lively melody, li youth dance, jump up DaChaiWu, hunting. Young men and women on one side and talk to each other affection, if the relationship harmony, just giving pledge to each other. Girls will personally weave colorful belt in the waist, young man, young man, wear ear ring on the girl's ear, or the deer bone to do hair hair pin plug on the bun of a-mei, meet next year's festival again.
Folk customs
Li bamboo dance

Li people generous, good personality. Li people's singing and dancing has its unique charm. Li people like "bamboo dance", usually in the courtyard or the dance on the threshing floor. Dance, each side squat 4 people, each person hands holding a bamboo pole terminal, according to the rhythm of a knock, dancer with a bamboo pole piece close, two feet up and down continuously step, make all kinds of wonderful movements, the dance is a warm, fascinating.In hainan "bamboo dance" has become the most distinctive dance performances. The bamboo dance to promote national exchanges also called jump bamboo pole bamboo pole dancing, li for wood "jump", because of its is a fitness sport, foreign tourists also known as "the world's rare aerobics". The movement project in hainan island after ledong, dongfang Li Bao inhabit a region, ChangJiang, baisha li autonomous county, according to research has a history of hundreds of years."Jump wood" is li an ancient way of sacrifice. Allegedly, jump wood is li a way of several hundred years of history of ancient ritual. Rica through hard work, in a new valley to warehouse, the village men, women and children is beaming, dressed in ceremonial dress, made new families for cooking rice, fermented glutinous rice wine, domestic livestock slaughter, sacrifice to ancestors and gods.As the change of The Times, jump wood custom spread and evolution in the li people. Nowadays, color of sacrifice has gradually disappeared, it has become a kind of both cultural and entertainment, and sports fitness activities. Dozen men and women in the past that only "jump" habit, now also change it as "mixed play jump". In the past, "SAN yue SAN" as li village mountain love day, today also increased jump bamboo and other rich content of health significance. Young men and women with jump bamboo activities, looking for a "partner", set up "Milky Way", to establish friendship.

Miao bullfighting

Hainan miao bullfighting was conducted in the atmosphere of the gongs. Start the bullfight, two cows of bovine eye ophthalmic leaves cover, led to the ground and opened again after two cattle within seconds after getting. Host bullfighting person commanded, cattle left master, began to attack each other, collide horn, to duel. The people around you warm cheer, naughty drums. After a competitive sport, can be seen on a few turn, loser may be lost, perhaps to die on the spot, there is also a lose-lose. The winner of the last remaining. People at this time will be three feet six inches of red silk on the bull horns, as a reward. Then last week, back to the village in the firecrackers. And jungle juice, bullfighting festival victory, cattle meritorious award. Hainan miao pit is not only a kind of recreational activity, or cattle technology, which can promote girl the cattle.